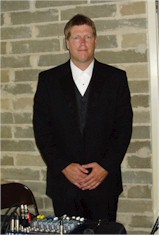 Wayne Ingram
This is the story behind the creating of "Party On A Budget". It goes way back to junior high school, where I learned to play the saxophone in the school band. It was there that I fell in love with music and performing. After graduating high school, I traded my sax in for a bass guitar. In 1998 I joined a band with my brother and we played all around the Southeast for about 5 years. During that time I was the soundman also for the group, mainly because I owned most of the sound equipment. I did a lot of reading and learning in order to make our band sound as good as it possibly could. (A poor mix of the sound equipment can make even the best bands sound awful.) We had a good sound and I was proud of what I had learned. After disbanding, I was left with a trailer full of sound equipment and nothing to do with it. I DJ'ed some parties and wedding receptions for some friends over the years, but I missed meeting new people and performing for them and seeing them have a good time. Then, in late 2007, I decided to use my love for music and performing, along with the knowledge and equipment that I had gained over the years, to provide others with a way to enjoy professional quality musical entertainment at their parties and receptions, yet not have to pay the outrageous prices that seem to be the norm with the bigger companies. So, "Party On A Budget" was created. Now everyone can have professional quality musical entertainment, even if they are on a tight budget. There's no need for the high prices.
"Music is my way of life, not my way of living!"
About Me
Wayne Ingram
Age: 58 years old
Occupation: Retired Firefighter for Bessemer Fire Department (25 yrs)
Married to Pam, who is a Doctor of Nursing Practice in Greenville, AL.
Children: 3 girls - Ashlyn, Alaina, and Heather
Hobbies: Golfing, Camping, and Bicycling
Many years of experience in the music industry; performing, mixing, and audience interaction